Profile
Stuff about me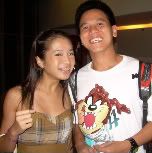 diane foong sook ching
the unassuming drama queen.
ching*.
twenty two. 19/12/88.
shopaholic.
chocoholic.
perfectionist.
habitual tardy queen.
fairfield methodist.pjc.
ntu-chemical &
biomolecular engineering
ching*
something more.
ice queen to many.
cold and aloof.
retarded & crazy.
extreme and eccentric.
melodramatic, drama queen.
amazing eater.
bottomless pit.
super self-conscious.
fret over nitty gritty stuff,
over exaggerating.
don't really like capital letters.